Online Training
Under 3 hours
Stop & resume as needed
No upfront cost
Hands-on Practice
45 minutes or less
$20-$40 on average
Your own private instructor
Receive Certification
Who needs the "Blended Course?"
Individuals who are getting CPR certification for the first time
Individuals who have been informed by their company or licensing administration that they must have a hands-on skill evaluation
What is the "Blended Course?"
All training and written testing is completed online at www.procpr.org or www.profirstaid.com. Skills are then evaluated in person by a registered ProTrainings Skill Evaluator or certified CPR Instructor.
What does the "Blended Certificate" look like?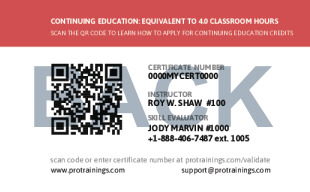 The Blended Certificate looks just like the regular version, except on the back there will be a listing for the Skill Evaluator's Name and registry number.

How do I get started with the "Blended Course?"
It's easy! Simply sign up online. Because you are taking the blended course, check the box that says "My certification has not lapsed more than 6 months or I am taking the blended course." When you have passed the test and paid for the certification, print out the "Blended Course" packet and card. Upon successful completion of the skill evaluation, have the skill evaluator sign the back of the card.
How can I find someone to perform my skill evaluation?
ProTrainings allows skill evaluations to be performed for ProCPR and ProFirstAid certifications by currently certified instructors bridged from other curriculum providers. Instructors who are currently certified by the American Heart Association, American Red Cross, Medic First Aid, ASHI, or other nationally recognized programs that follow the most current ILCOR and ECC recommendations may be immediately bridged as an approved skill evaluator for ProTrainings by submitting a copy of their certification cards and completing the ProTrainings Skill Evaluator application. You can search for a ProCPR skill evaluator at www.blendedcpr.com.
How Can I become a ProTrainings Skill Evaluator?
Head over to our ProCPR Skill Evaluator Training Course. Watch the videos and go through the training. After completing the training and passing the test, you will complete a short evaluation in person or remotely with our instructor trainer. You will then be able to perform skill evaluations for ProCPR students who need to complete the blended course. You will also be listed on our blended CPR search where students can find you through a zip code search.
Prerequisites:
A current CPR and/or First Aid certification from ProFirstAid, ProCPR, or a recognized organization up to the level he or she will be evaluating.
A demonstrated need to coordinate training for others.
Preferably (not required), a current certified CPR and/or First Aid Instructor with a recognized organization.
Preferably (not required), a person with prior medical training who has used CPR and First Aid in real-life situations.